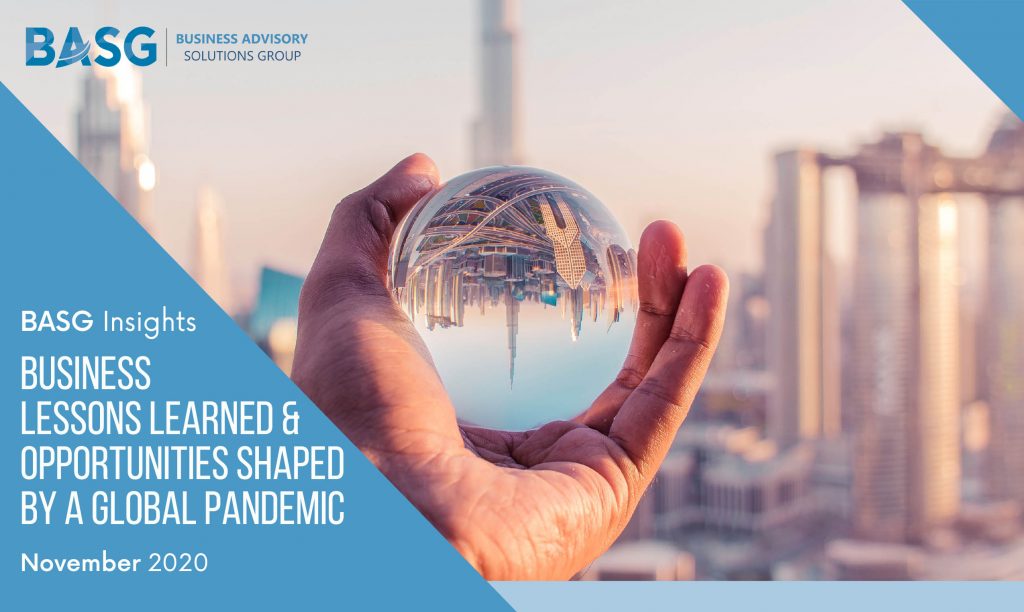 WERE YOU READY?  HOW ARE YOU DOING?  ARE YOU READY?
These were three sets of questions Business Advisory Solutions Group (BASG) asked of clients, prospective clients, vendors and partners through a series of conversations conducted over the last month. At the onset of the global pandemic, COVID-19, businesses scrambled to adjust to the new environment.  Businesses were ordered to close, essential workers had to identify triaged solutions to perform their duties and supply chains were interrupted across all industries. Uncertainty about the virus' severity and means of transmission added to the complexity of transition to the new world order.
Putting the pandemic into three timeline categories: The Onset, New Normal and Post Pandemic. We have broken down some lessons learned, successful business characteristics, and opportunities birthed.
1. The Onset
Businesses began the logistical transition to close, make operational modifications or transitioned to remote work if applicable.  Depending on the industry, the company's financial strength, employee base, markets served and customer profiles, this was an extremely challenging time.
Were You Ready?
Not all businesses were at the same starting line when COVID-19 arrived, and each business had its own unique challenges.  The magnitude of the challenge depended on a multitude of factors such as the maturity of the organization in its respective industry and the place in time occupied by the business at the moment it felt the impact of the pandemic.  For example, was the business in the middle of a merger or seeking an increase in capital funding for an expansion or already in survival mode due to non-pandemic circumstances. Businesses that fared best through this period generally had the following characteristics:
They had a detailed, updated disaster recovery and business continuity plan *
They had financial strength, particularly in liquid reserves.
They had continuously invested in technology.
They embraced an agile, adaptive-to-change environment.
They had leadership that empowered the employees.
They communicated often with both employees and customers.
* It should be noted, although the majority of businesses surveyed had detailed and updated plans, nearly half still fell short in critical areas such as not including pandemic-specific actions, lacking extreme shelter-in-place scenarios and/or offering siloed plans vs enterprise-wide.
2.  New Normal
The New Normal is the period we are currently experiencing.  Part of the uncertainty of the pandemic was and is the duration of time it will take to fully recover. Much like the Onset period, the New Normal will impact businesses differently and the recovery period will be wildly different as well. Some businesses will not be able to survive in the New Normal and others will begin to recognize, seize, and thrive with new opportunities.  The characteristics previously described, along with ingenuity and innovation, will birth new services, product offerings, customer experiences and relationships. The following pandemic trends are here to stay:
Cashless and contactless commerce
Delivery
E-commerce acceleration
Robotics
Sanitation
Shop and source local
Technology investments
Video conferencing
Virtual events
Working from home/remote
The digital banking age is about to take a huge surge forward.
With branches being closed during the pandemic and the alternative being online banking, individuals previously resistant to digital banking have now recognized the convenience and gained the skills to navigate the online banking world.  This opens an expanded market with fewer physical restrictions for banks and credit unions wishing to expand their customer base in different markets.
Employee engagement is imperative to innovate, transform and grow.
Dine-in only restaurants have moved to take-out orders, food trucks and delivery. Grocery delivery has become common. Online shopping has soared over the years, particularly during the holidays, but day-to-day purchase of everyday goods has now exploded, opening the door for customers to try new products, shop at different stores, and explore all the options. Automation and robotics will continue to grow substantially, leading the way to advanced analytics, personalized customer experiences, employee safety and the preservation of the supply chain that previously relied on manual functions. Part of the New Normal has been a refocus on local commerce: Helping the local community survive by patronizing small, local businesses.  This has gone from a sense of obligation to the discovery of unique finds in our own backyards.  Additionally, this trend has exposed what is missing and rest assured some business mind will capitalize on the opportunity to fill an identified gap. Working and educating remotely plus sheltering in place has blown the doors wide-open on video conferencing, virtual events, and remote productivity technologies.  Services can be more easily expanded.  Enhanced telehealth will flourish.  And workforce development without geographic restrictions will enable companies to source and hire the best talent regardless of proximity to corporate centers.
How Are You Doing?
The businesses that are not only surviving, but are thriving, have the following characteristics:
They know their customer, have a relationship, and anticipate their needs in a changing environment.
They know their employees and support them personally as well as professionally.
They inspire their employees to think differently and empower them.
They are innovative and willing to take calculated risks.
They constantly communicate internally and externally with specifics not general messaging.
They are nimble and foster a culture that embraces change.
Their mindset is not to just get through this disruptive period, but to see opportunities created by it.
3. Post Pandemic
The landscape of businesses beyond the New Normal will depend on many factors such as controlling and living with the COVID-19 virus and the length of the recovery locally, domestically, and globally. Transformation and innovation are the terms that will be heard over and over, partly due to necessity and partly due to a purpose-filled quest to improve, expand and come back stronger than before. The natural reaction is to retrench, look for cost savings and manage expenses.  This is a short-term strategy to climb back to a baseline but not a place to stay too long.  If transformation is just cost cutting initiatives it will build more skepticism and cynicism from customers, employees, and shareholders. The mission should be to build new, resilient, inventive businesses.  Innovation does not have to be large sweeping expensive changes or a massive home run.  It can be small, incremental improvements.  Do something with nothing starts with where you are.  Although technology can be the center of transformative projects, it does not have to be.
It is not the technology that innovates, it is the thinking, the culture, the people empowerment.
The greatest resource is people. More specifically the greatest knowledge base of people is customer-facing.  They have the firsthand relationships with the customer.  Product and service ideas are created at the front line with the understanding of the changing needs of the customer. Operational improvement ideas are born in the daily work provided by the support teams.  Employee engagement is imperative to innovate, transform and grow.  Innovative environments draw talent.  It is not the technology that innovates, it is the thinking, the culture, the people empowerment.
Advanced analytics, digital decisioning and digital availability will be expected by the customer and internal leadership.
Being responsive to change can make an enormous difference in retention rates, market growth and profits.  One of the lessons learned in the small business and banking communities centered around the Paycheck Protection Program (PPP). When the program was approved and announced to support small businesses, many banks scrambled to back the government initiative.  Depending on the preparedness of the financial institution, this was either an opportunity to embrace their business customer in a time of need or it was a miserable exercise. The banks that had robust processes, keen relationships with their business customer and agility to shift internal resources if necessary, managed the program much better than others. The consequence for not could be devastating to both the bank and the small business. This opportunity was a lifeline for the small business.  If done well, the bank could cement that relationship or risk losing it to a competitor all together. There are many ways to use the tools of technology to aid in the transition to the forward-thinking business Post Pandemic.  It will be necessary, but again the solutions do not need to come with a high price tag.  Advanced analytics, digital decisioning and digital availability will be expected by the customer and internal leadership. The approach to investing in technology can be build it, buy it or partner.  FinTech and other startup technology companies will flourish in the Post Pandemic world.  This will yield opportunities for businesses to have the technological tools they need quickly to compete. The pandemic as devastating as it is, is a time to reset and reevaluate.  On the technology front, is the business building to the ideal customer experience with a holistic approach or is it taking existing processes and technology stacks and putting the customer on top of that?
Are You Ready?
Businesses poised to advance after the pandemic have the following characteristics:
They foster an innovative culture.
Their environment has agility and change as a staple.
They listen, empower, and invest in their people.
They take a holistic, ideal approach to the customer experience.
They leverage technology for advanced analytics, digital decisioning and enhance customized customer experience.
They maintain a strong liquid asset position to capitalize on new opportunities or sudden economic changes.
They preserve a forward-thinking mindset.
They have a detailed disaster recovery and business continuity plan inclusive of large scale, long duration shelter in place.